FAQ SAT
How to dismount the ARNOLD MAT hydraulic spindle from the vice body
These are the steps to follow: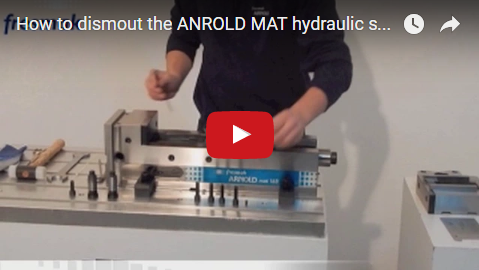 Remove the 2 allen set-screws (2004) on either side under the fixed jaw.
Remove the screw (1041) at the back of the movable jaw (1042).
Lift the jaw forward and remove. Special care must be taken not to lose the semi-sphere (1043) inside.
Remove the 4 screws that fix the mounting plate (2018) to the vice body and take it out.
The spindle is composed of two different parts; one side is the hydraulic pressure cylinder with the threaded spindle (2008) and the other side is the clutch assembly. To remove the spindle shoe (1048), the spindle needs to be disassembled in its parts. The unifying element is the allen set-screw (202), once it is loosened the 2 parts can be separated.
The spindle can now be taken out together with the spindle shoe.
The protecting spiral guide (1045) needs to be held securely for future assembly.
Unscrew the spindle shoe (1048) from the spindle.
Remove the protecting spiral.
Should you need + information, do not hesitate to contact us atcomunicacion@fresmak.com
Remember that through the serial number of our vices we can deliver you a similar one on your next order!